Buraku Liberation News, May 1998 issue (No.102)
---
Mr. Shigeyuki Kumisaka was Elected
President of the BLL.
---
The Buraku Liberation League held its 55th National Convention from May 10 to 12 in Fukuoka. Mr. Shigeyuki Kumisaka, former Secretary - General of the BLL, replaced Mr. Takumi Ueda, who decided to retire from the presidency voluntarily for the alternation of generations, after a 2 years term. Mr. Masato Takahashi, former Director of the Financial Committee of the BLL as well as President of the BLL Osaka, was elected as Secretary-General.
The Convention adopted a policy for fiscal 1998 that urges the members to carry out the third stage of the Buraku liberation movement where the BLL tries to eliminate all forms of discrimination, such as discrimination against people with disabilities, women, foreign residents in Japan, while placing Buraku discrimination as the main issue.
---
In addition, the Convention reaffirmed the pursuance of several subjects, including the enactment of the Fundamental Law for Buraku Liberation aimed to completely eliminate discrimination, the actual implementation of the Law of Promotion of Measures for Human Rights Protection, and the strengthening of the struggle for the retrial of the Sayama case.
Mr. Kumisaka was born and brought up in Fukuoka Prefecture, where the late Mr. Jiichiro Matsumoto, called father of the liberation movement, and the late Mr. Saichiro Uesugi, former BLL President, were born. Mr Kumisaka had been Secretary-General of the BLL since 1996.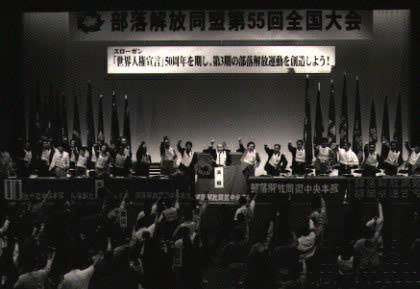 BLL's 55th National Convention
Photo by the Kaiho Shimbun
---