Buraku Liberation News, May 1998 issue (No.102)
---
Discriminatory Graffiti were Found Twice on the Entrance of the Buraku Liberation Center.
---
In February and March 1998, an unidentified person(s) sprayed the epithet "Die, Etta" on the entrance of the Buraku Liberation Research and Education Center building, which is also where BLRI is located. "Etta" is a derogatory term used to refer to Buraku people.
Early in the morning of February 28, the first graffiti was found by a staff member of the Center. It was scribbled with red spray paint just under the name plate of the building at the entrance and about one square meters in size. On the same day, another graffiti, "Etta", was found on the ground situated in front of a housing complex built by the Dowa project. The two graffiti seem to have been made between midnight of the 27th and early in the morning of the 28th.
---
Again, early in the morning of March 14, graffiti similar in content and size were found on the wall near the entrance of the same building.
This is the first time that such discriminatory graffiti were found at the Center. The Osaka Prefectural Federation of the Buraku Liberation League, also one of the tenants, and other organizations concerned, strongly denounced these incidents, stating that making such graffiti was extremely malicious and must be regarded as a hostile action against the Buraku liberation movement.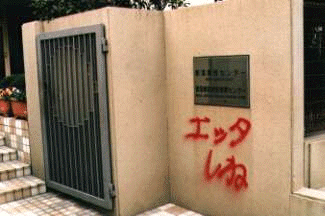 An epithet "Die, Etta" was sprayed
Photo by the Kaiho Shimbun Osaka

---