Buraku Liberation News March 1999 No.107
---
The BLL held its 56th National Convention in March
---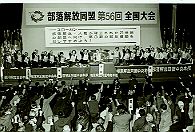 The Buraku Liberation League held its 56th National Convention from March 2 to 3 in Tokyo. About 810 delegates from the prefectural federations of the BLL participated.
The convention adopted a policy to pursue a campaign aimed at the legislation of human rights education and awareness raising, as a part of the struggle for the enactment of the Fundamental Law for Buraku Liberation.
---
In addition, the convention adopted a policy to continue the campaign to demand the retrial of the Sayama case (*1), and denounce the discriminatory background investigation in employment conducted by detective agencies, among others.
The convention unanimously decided to strengthen the organization and to pursue the third stage of the struggle (*2) in order to create a society in the 21st century where human rights are guaranteed.
In line with these policies, the BLL drafted a fundamental principle for the prospective law for human rights education and awareness raising.
---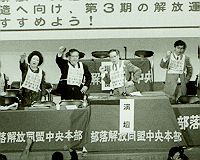 (* 1) Mr. Kazuo Ishikawa, of Buraku origin, was falsely arrested and charged in 1963 with the kidnap-murder of a high school girl and sentenced to life imprisonment in 1974 by the Tokyo High Court. The second retrial appeal was filed in 1986.
(* 2) The BLL refers to the current stage of the movement as the third stage which began in the late 1980's. In this stage, the BLL seeks to succeed and develop the gains of the movement in the past, in addition to strengthening the movement for eliminating discrimination from Japan and the rest of the world.
---