Buraku Liberation News September 1999 No.110
---
Central Council of German Sinti and Roma Sent a Letter to Japanese Government Requesting the Retrial of Sayama Case.
---
In reaction to the dismissal of a second request for a retrial of the Sayama case by the Tokyo High Court, the Chairman of the Central Council of German Sinti and Roma, Mr. Romani Rose, on 3rd September 1999 handed over a letter to the Attache of Justice, Mr. Toshinobu Uetomi, at Japanese Embassy in Berlin. The letter is directed to the Minister of Justice Takao Jinnouchi. Mr. Rose demands the opening of a new court procedure for the rehabilitation of Mr. Kazuo Ishikawa. (Please see July 1999 issue)
Concerned by the National Socialist genocide, the Sinti and Roma have their own experiences with discrimination by authorities.
---
The following is a full text of the letter.
To the
Minister of Justice
Mr. Takao Jinnouchi
Tokyo, Japan
transmitted by the
Ambassador of Japan
Mr. Kunisada Kume
Berlin
3rd September 1999
Dear Minister,
With great concern I learned that the request of the retrial of the "Sayama-case" against the accused Ishikawa Kazuo was dismissed by the Tokyo High Court on 8 July 1999.
The issue of this special and internationally known case of justice from the year 1963 is that discriminatory practices by state authorities and justice against the Burakumin in Japan should have no place in a judicial inquiry. With respect I ask you to initiate now a retrial from the side of the Ministry of Justice or the Department of Public Persecution to reverse the judgement against Ishikawa Kazuo. I ask you for this initiative on the background of the own history of our minority in Germany who was victim of the Holocaust by the Nazis. After 1945 Sinti and Roma in Germany - as well as in other countries of Europe - suffered from continued discrimination. For that reason in a debate of the German Parliament about Sinti and Roma the former Chancellor Dr. Kohl spoke about "chicanes of authorities". To handle the practices of the own authorities critically concerning the minorities characterizes serious and open mind politicians. Therefore I address my appeal concerning Mr. Ishikawa Kazuo to you. Concerning the "Sayama-case", in my opinion the Japanese State has to take care that the state is opposed to any impression of unlawful practices and prejudices by his authorities. In case of existing facts of doubts and new circumstantial evidences the whole case must be clarified without reserve. That means after international standards also that all evidences, files and investigations against other suspects must be given for inspection to the defense. After public reports this procedure has been rejected by the authorities in the "Sayama-case". Since the decades international Human Rights Organizations protested against the fast judgement against Ishikawa Kazuo in 1964 although massive doubt was existing concerning the early confession of Ishikawa - that he revoked a short time later - during his detention by the police. He always protested his innocence. The later known circumstances and graphologic expert opinions contradicted the decisions of the Court. This is documented in an article of the newspaper "POGROM" of June 1983 with further information which I received from Japan. So there were suspicions very early that pressure for success for the police and a discriminatory mind against Ishikawa Kazuo because of his belonging to the Burakumin led to a wrong judgement without consideration of all evidences. This situation must not remain - even if 36 years have been gone. Therefore I ask you for the initiative by your authority for a chance to rehabilitate Ishikawa Kazuo from the murder accusation. I would be grateful if you could give me an information about it. The Central Council of German Sinti and Roma is the representation of the 70,000 German Sinti and Roma in the Federal Republic of Germany. Its office and its documentation and Cultural Center in Heidelberg is institutionally funded by the German Government. The German Sinti and Roma are recognised as a national minority in Germany since 1995. Sincerely, Romani Rose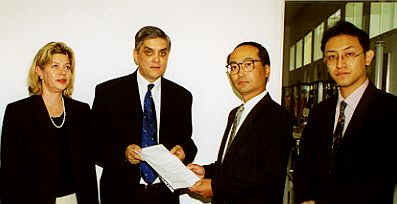 Mr. Romani Rose handed over a letter at Japanese Embassy
---
| Back |