3rd Quarterly, 2005 No.137
Thirty Years after the Emergence of the Buraku Lists Scandal

Kenzo Tomonaga, Director of BLHRRI
at the 267th study session of the Osaka Liaison Conference
for the Universal Declaration of Human Rights

---
Facts revealed in letter

2005 marked the 30th anniversary of the exposure of the discriminatory Buraku Lists scandal, which was triggered by an anonymous letter delivered to the Human Rights Measures Division of the Osaka Association of the Buraku Liberation League (BLL) on November 18, 1975. The letter stated, "It is very regrettable that Buraku lists are being marketed. I strongly hope you will take appropriate measures on this issue." The BLL obtained an actual copy of a Buraku list and made the facts public in a press conference on December 9, which resulted in the scandal becoming a major social issue.

According to the Ministry of Justice, there were eight different Buraku lists covering more than 5,300 Buraku districts around Japan. The lists contained the communities' names, locations, household numbers, residents' major occupations and other information. Along with communities' present names, some lists also gave their old names, which were used in the early 20th century. The information used by private detective agencies and other investigative companies to compile the lists was apparently a byproduct of their normal business. 223 corporations purchased copies, some buying several copies or versions. In some cases, parents with sons or daughters who were about to marry bought copies after becoming aware of them through direct mail advertising.

The Ministry of Justice, which is officially responsible for human rights issues, declared the end of the scandal in 1989. Although the BLL disagreed that the scandal was over and protested against the decision, the Ministry refused to accept our case and terminated the relevant initiatives. The full picture of the scandal is still unknown, but similar scandals have continued to occur to the present day.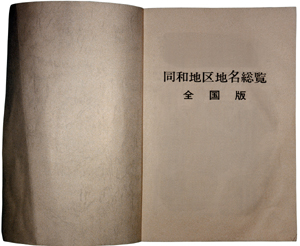 The motivations behind the publication of Buraku lists

According to their testimony, publishers were apparently motivated by the marketing prospects of Buraku lists on the basis of the large number of requests for investigation into whether prospective marriage partners or job applicants were from Buraku communities. The preface of one version of a Buraku list makes it clear that the publishers were well aware of the realities of Buraku discrimination and the Buraku liberation movement. The preface stated that they had "prepared the present list in defiance of the current trend," and asked users to keep the existence of the list secret. Corporations, due to Buraku discrimination by staff in charge of personnel and within the corporations themselves, used the list to exclude people from Buraku communities from employment. It has been reported in recent years that some corporations purchased the list for use in real estate trading. Individual purchasers bought copies to investigate whether or not prospective marriage partners were from Buraku communities. When the existence of Buraku lists was reported in newspapers, many orders for copies were made to bookstores, and even the Buraku Liberation Publishing House received a number of inquiries. These facts reveal entrenched discriminatory attitudes towards Buraku communities. Specifically, the Buraku list scandal illustrates the serious and deep-rooted reality of Buraku discrimination in marriage and employment.
Efforts to prevent reoccurrence

A variety of measures have been taken to prevent the reoccurrence of similar cases, leading to the following seven outcomes. (1) Corporate associations, led by corporations that purchased Buraku lists, have been established in a number of locations around the country to address discrimination issues. (2) The Ministry of Labor acknowledged the existence of deep-rooted discriminatory attitudes within corporations and, in December 1977, instructed private enterprises with more than 100 employees to appoint "in-house promoters of Dowa (Buraku discrimination) issue training". (3) The Employment Security Law was amended in June 1999 to prohibit the gathering of information that may lead to discrimination during the recruiting process. (4) In March 1988, Osaka Prefecture enacted a local ordinance to prevent the marketing of Buraku lists and the conducting of discriminatory investigations into Buraku origin by private detective agencies. A number of other prefectures have followed suit. (5) Driven by the emergence of door-to-door marketing of Buraku lists, grass-roots human rights movements, including the "Rejection of Inquiry into Personal Origin" movement, were formed in many areas around the country. (6) The public has come to have deeper understanding of the denunciation of Buraku discrimination. (7) The Personal Information Protection Act came into force this year.

Scandal not over

Many facts concerning the scandal are still unknown, including how many copies of the fifth Buraku list were printed and sold. Furthermore, we continue to receive letters informing us that some corporations still hold copies. There have been many cases in which the names of Buraku communities have been published by packet communication and, in recent years, on the Internet. Inquiries into the backgrounds of prospective marriage partners continue to be made. Inquiries into the background of the prospective wife of the Crown Prince of Japan, for example, were conducted in an overt manner and funded by our taxes.

In addition, it was revealed in November 2004 that paralegal administrative lawyers in Hyogo and Osaka wrongfully obtained a large number of full copies of family registers and residents' registration cards. It was also discovered that one of their clients, a private detective agency, secretly kept a Buraku list.
What should be done?

A full picture of the Buraku list scandal must first be uncovered. Corporations, public authorities and organizations should ensure the lessons learned from the Scandal are never forgotten. Legislation to prevent discriminatory investigations into Buraku origin and discrimination in employment is also needed; in particular, it is essential to ensure the early ratification and implementation of ILO Convention No.111, which prohibits discrimination in employment.

Furthermore, in order to ensure that all the corporations address discrimination and human rights issues, we should persuade employers' organizations, including Nippon Keidanren (the Japan Business Federation) and chambers of commerce, to incorporate these issues into their fundamental policies. Efforts must be made to overcome the "don't wake a sleeping baby" attitude within Buraku communities, with reference to the Buraku list scandal as a sign that Buraku discrimination is not "sleeping" at all. It will also be important to reinforce anti-discrimination and human rights initiatives, bearing in mind allegations of the existence of a variety of discriminatory lists other than those regarding Buraku.

With regard to the continuation of Buraku discrimination, in my opinion, these kinds of scandals will never cease. It is therefore important to continue to take concrete steps against discrimination, addressing each and every case. At present, due to the existence of a variety of discriminatory lists, the Buraku list scandal remains as an issue with significant implications for us. I believe that wide appeals regarding this unresolved scandal would encourage the public to think about the human rights situation in Japan, where cases of discrimination are never condemned.
---
Questions and Answers

Q. Osaka Prefecture enacted a local ordinance to prohibit the marketing of Buraku lists and discriminatory investigations into Buraku origin by private detective agencies. What about other prefectures?

A: Since Osaka Prefecture took the lead in 1985, Kumamoto, Fukuoka, Kagawa and Tokushima prefectures have enacted similar ordinances. In October 2005, Tottori Prefecture enacted a local ordinance to provide remedies for human rights violations. Because Tottori's ordinance prohibits discriminatory investi- gations into Buraku origin, it can be regarded as sharing common features with Osaka's ordinance. As for other prefectures, voices have been raised for the enactment of similar local ordinances in Hyogo and Kyoto prefectures, where paralegal administrative and judicial lawyers wrongfully obtained full copies of family registries.

Furthermore, Article 3 of the Human Rights Bill, which was previously scrapped but has been reintroduced and is now under consideration, prohibits the publication and marketing of Buraku lists, discriminatory investigations into Buraku origin and discrimination in employment. While the Bill has many problems, including issues relating to the independence of the proposed Human Rights Commission, it also contains many history-making measures. If the Diet passes the Bill, the publication and marketing of Buraku lists and discriminatory investigations into Buraku origin will be prohibited at the national level.
Q. What kind of action, including protests, has the BLL taken against the inquiries into the background of the prospective wife of the Crown Prince? What kind of implications does it have on the marriage of Mr. Masaki Kuroda, who married a daughter of the Emperor? In addition, are there any moves towards widening the scope of the activities of the Industrial Federation for Dowa and Human Rights Issues?

A: Since we came to know about the inquiries into the background of Ms. Masako Owada, now the Crown Princess, we have only been able to make minor protests. In my opinion, it is more important to work towards prohibiting the publication of Buraku lists and inquiries into people's backgrounds, and to take action against unregulated activities by investigative agencies. The present situation is so alarming that a number of parliamentarians of the ruling Liberal Democratic Party are considering submitting a bill to prohibit these activities.

Due to the occurrence of a number of cases of discriminatory inquiries into people's backgrounds, the Osaka Association of the BLL now holds annual meetings on discrimination in employment and other issues with the four major employers' organizations in Kansai area. I have proposed that these kinds of meetings should also be held at the national level. Through these meetings, we should encourage corporations to fulfill their corporate social responsibilities to eliminate discrimination and to place human rights issues amongst their central concerns.
Q. You said that discrimination is occurring on the Internet. Can you elaborate on recent developments, including the response of Internet service providers (ISPs) and the issue of freedom of expression?

A: Mr. Junichi Hamada of Tokyo University says that the emergence of an information society through the Internet embodies such a great change that we should regard it as the birth of a new world. Since there is a legal backlog in this new world, he went on to propose a fundamental law for the Internet from the perspective of human rights. However, since a single measure cannot solve all problems, solutions should be based on a comprehensive package of various fundamental measures. Education and awareness-raising are important pillars of this package. Presently, however, Internet education focuses only on technology and disregards what we use the Internet for. Education and awareness-raising should be oriented towards the most important issue, which is the use of the Internet for the protection of human rights, peace and the environment.

Another important issue is how to deal with complaints. Since this is difficult to do at the individual level, we must establish a public body for this purpose. An appropriate public body would receive complaints and, when human rights violations are involved, urge ISPs to delete the information concerned or instruct those who are posting such information to stop. I think this would be one effective response to the problem. ISPs may want to establish and publish a set of regulations on the uploading of information, warning that specific kinds of information might face deletion. More and more ISPs state in their contracts that discriminatory messages will be deleted and cases of such deletion are apparently becoming more frequent. If discriminatory messages continue to be posted in spite of such action then penalties will be necessary. Japanese legislation can have only limited impact in this regard, however, because ISPs in other countries could be used at little extra costs. In recent years, people are increasingly switching to US-based ISPs after being excluded from those in Japan. When the names of Buraku communities are posted through ISPs in the US, much time is taken up simply getting ISPs to understand that this will lead to discrimination. In summary, the only way to effectively regulate the Internet in this regard would be to adopt an international treaty. The UN is currently discussing the issue of Internet-based violations of human rights.
Q. Whether or not a person originates from a Buraku community in the first place is unnecessary information. While the Personal Information Protection Act states that the purpose for using personal information must be specified and that its use must be restricted to the specified purpose, it does not prohibit the collection of unnecessary information. Why have past efforts for the elimination of discrimination not had an impact in this regard?

A: One of the most important principles of the Personal Information Protection Act is that the main right-holder of personal information is the person to whom the information relates. This means that personal information should not be collected or used without the consent of the person concerned. I think this principle is very important and have argued that it should be applied to the management of full copies of family and basic resident registries. Despite the fact that these registries contain very detailed personal information authenticated by the public authorities, the Personal Information Protection Act does not cover them. This blind spot has caused a number of problems, which proposed amendments to the Basic Resident Registration Law aim to rectify. Amendments to the Family Registration Law are also under discussion. What I would like you to understand is that the only way to prevent the wrongful flow of personal information is to notify the person concerned rather than to rely on identification documents, which can be easily forged, or to permit vague descriptions for the purpose of use. Notifying the person concerned of who has requested their personal information and the date and purpose of the request will reduce the number of cases of wrongful flow of personal information, and perpetrators will be more easily identified if human rights violations occur.
Q. What about the geographic distribution of Buraku List purchasers? Has the BLL denounced all of the purchasers?

A: As far as I remember, the overwhelming majority of purchasers were located in Tokyo and Osaka. Also, it is safe to assume that many purchasers were in the prefectures where Corporate Associations on the Dowa Issue were first formed.

The BLL has held denunciation meetings with all of the corporations that purchased Buraku lists. We could not run meetings with individuals who turned defiant or private detective agencies that have disappeared, but they only constitute a small proportion of all cases.
---