2nd Quarterly, 2006 No.140


"Electronic Versions of Buraku Lists" Retrieved
---
Floppy discs containing the locations and addresses of Buraku districts throughout the country were discovered and retrieved by the Osaka Prefectural Association of Buraku Liberation League at the end of September 2006. While it has long been thought that investigative agencies possessed this information in electronic form, this is the first actual discovery. Since data in digital form can be easily duplicated and reproduced, it is feared that the use of "electronic versions of Buraku Lists" may have become widespread in the investigative service industry.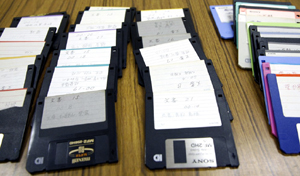 The retrieved floppy discs contained the so-called "eighth" and "ninth" Buraku Lists. The eighth "Buraku List" is held on 16 floppy disks in near complete form. It was produced in word processor text format. The discs contain information about Buraku districts throughout the country with their names, addresses, number of households, and other such information, together with information on how to locate Buraku districts.

The ninth "Buraku List" is held on more than 20 floppy discs, 20 of which have been retrieved by BLL Osaka. Since these floppy discs are labeled with a serial number "28," it is assumed that at least the List is stored on 28 floppy discs. Hand-written names of prefectures such as "Kyoto", "Osaka", and "Hyogo, Wakayama and Nara" also appear on the labels. The data was saved in the word processor text format.

Information contained on the floppy discs suggests that the lists were produced in the mid-90s.

The format the data was saved in means that it can easily be reproduced for use on personal computers, which have enjoyed explosive growth since the mid-90s.

We are concerned that if the data gets distributed onto the Internet, the consequences would be irreversible and to serious damage to the achievements of the Buraku liberation movement and the Dowa administration.

---